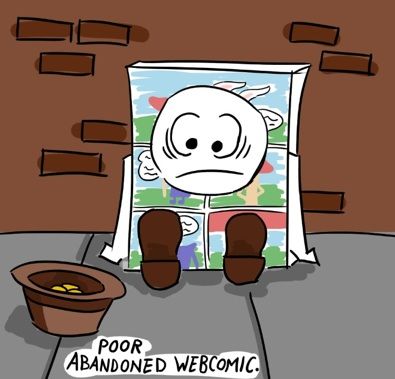 It's one of the great tragedies of webcomics the way 'real life' so often gets in the way of our comic work.

I was going through my list of favourites the other day; having been here nearly 6 years now, it has gotten pretty unwieldy to the point that I had mostly stopped using it. So I began paring it down, taking out some of the comics I once loved but which haven't updated in years, and flipping through many of them in the process.

It struck me just how many were never officially ended, nevermind completed, but were more or less forgotten - abandoned. You know the ones…the updates peter out for a while, and the last page is an apology promising more pages in the future.

I have to admit to having done this with my own comic - twice, actually! The first time I just sort of ran out of script, and the second time was during the site redesign confusion.


Here are just a few of my favourite orphaned comics:

The People That Melt in the Rain
This one was like a cross between a really good episode of The Twilight Zone and a fairy tale.

Opey the Warhead
About a young warhead growing up post-apocalypse - irresistible artwork.

Orbit
A cute and funny comic that personified the solar system.

And so many more…


Do you guys still have some dear old comics in your favourites that you hope against hope will update some day?
Have you ever had to abandon a project of your own that you loved but that just got lost among a pile of other stuff to do?

—

Have a comic milestone, a community project or some comic-related news you'd like to see in a newspost? Send it to me via PQ or at hippievannews(at)gmail.com!